Estimadas familias de Ocotillo, Debido a las inclemencias del tiempo, las Escuelas Municipales de Carlsbad han cancelado la escuela hoy, martes 24 de enero de 2023. Todas las clases y oficinas estarán cerradas hoy. Gracias Sra. Álvarez
Dear Ocotillo Families, Due to Inclement Weather the Carlsbad Municipal Schools has cancelled school today, Tuesday, January 24, 2023. All classes and offices will be closed today. Thank You Mrs. Alvarez
Estimados padres y tutores de Ocotillo, ¡Feliz viernes! Me gustaría recordar a los padres que no se permite comida de restaurante en nuestra escuela para el almuerzo. Esperamos que el próximo año podamos relajar ese requisito, pero por ahora continuaremos estando uniformados con las otras escuelas primarias dentro de nuestro distrito. Si tiene alguna pregunta, no dude en hacérnosla saber. Respetuosamente, Sra. Álvarez
Dear Parents and Guardians of Ocotillo, Happy Friday! I would like to remind parents that no outside restaurant food is allowed in our school for lunch. We are hoping that next year we can relax that requirement but as for now we will continue to stay as uniformed to other elementary schools within our district. If you have any questions please don't hesitate to let us know. Respectfully, Mrs. Alvarez
Estimadas familias de Ocotillo, por favor lean el siguiente mensaje de Valley Transportation Mensaje de Chris Hamill sobre el autobús n.º 6: El autobús n.º 6 no funcionará del 17/01/23 al 20/01/23 y se reanudará el 23/01/23 debido a un caso positivo de COVID. Por favor haga sus propios arreglos para el transporte hacia o desde la escuela y le pedimos disculpas por cualquier inconveniente.
Dear Ocotillo Families, please read the following message from Valley Transportation Message from Chris Hamill regarding Bus #6: Bus #6 will not be running 1/17/23 through 1/20/23 resuming 1/23/23 due to a positive COVID case. Please make your own arrangements for transportation to or from school, and we apologize for any inconvenience.
Estimados padres y tutores de Ocotillo, Hemos notado un aumento de estudiantes que vienen en bicicleta y patineta a la escuela. Aunque es una excelente forma de ejercicio, andar en bicicleta o andar en patineta sin equipo de protección puede ser peligroso. Además de las lesiones relacionadas con vehículos motorizados, las bicicletas causan lesionan a más niños que cualquier otro producto de consumo, según la Campaña Nacional NIÑOS SEGUROS. El uso de un casco puede reducir el riesgo de lesiones y el uso del casco debe ser un hábito automático. como siempre, nuestra primera prioridad es mantener a su hijo a salvo. Respetuosamente, Sra. Álvarez
Dear Ocotillo Parents and Guardians, We have noticed an increase of students riding bikes and scooters to school. Although a great form of exercise, riding a bike, scooter, or skateboarding without protective gear can be dangerous. Next to motor vehicle-related injuries, bicycles injure more children than any other consumer product, according to the National SAFE KIDS Campaign. Wearing a helmet can reduce the risk of injury and a helmet should be an automatic habit. Helmets should fit properly on your child's head and also be fastened correctly. A properly-fastened and fitting helmet does not move around on the head. Thank you so much for your cooperation in this matter, as always our first priority is to keep your child safe. Respectfully, Mrs. Alvarez
Buenas tardes a todos, Roadrunner Food Bank tendrá su distribución de alimentos el 14 de diciembre. Se distribuirá tan pronto como se descargue el camión. Centro de conferencias Pecos River Village, 711 Muscatel
Good Afternoon everyone, the Roadrunner Food Bank will be having their Food Distribution December 14. It will be distributed as soon as the truck is unloaded. Pecos River Village Conference Center, 711 Muscatel
Estimados padres y tutores de Ocotillo, Es con gran pesar que les escribo para contarles sobre un evento triste que afecta a nuestra comunidad escolar. Una de nuestras maestras, la Sra. Leticia Delgado, murió inesperadamente durante las vacaciones de invierno. La Sra. Delgado tuvo un tremendo impacto en el personal y los estudiantes del Distrito. Hemos tomado la decisión de declarar el miércoles 4 de enero de 2023 como Día del Recuerdo. El primer día de clases para los estudiantes será el jueves 5 de enero de 2023. Brindaremos apoyo según sea necesario en todo el Distrito. Por favor mantenga a la familia en sus pensamientos y oraciones. Respetuosamente, Gerry C. Washburn, Superintendente
Dear Ocotillo Parents and Guardians, It is with a heavy heart that I write to tell you about a sad event affecting our school community. One of our teachers, Mrs. Leticia Delgado, died unexpectedly, during the winter break. Mrs. Delgado had a tremendous impact on the staff and students in the District. We have made the decision to declare Wednesday, January 4, 2023 as a Day of Remembrance. The first day of school for students will be Thursday, January 5, 2023. We will be providing support as needed throughout the District. Please keep Mrs. Delgado's family, friends, students, and colleagues in your thoughts and prayers. Respectfully, Gerry C. Washburn, Superintendent
Estimados padres de Ocotillo, Les recordamos que hoy la salida va ser mas temprano. Todos los estudiantes saldrán a las 12:00 pm y los autobuses llegarán a casa dos horas y 40 minutos antes del horario diario habitual. Por favor, llámenos si tiene alguna pregunta. Gracias y Feliz Navidad y Feliz Año Nuevo!!! Sra. Álvarez
Dear Ocotillo Parents, We would like to remind you that today is early out. All students will leave at 12:00pm and Buses will get home two hours and 40 minutes earlier than the regular daily schedule. Please call us if you have any questions. Thank you and Merry Christmas and Happy New Year!!! Mrs. Alvarez
Estimados padres de Ocotillo, Muchas gracias por acompañarnos ayer y hoy en nuestro Programa de Navidad. ¡Los estudiantes hicieron un trabajo increíble! Gracias a la Sra. Miller, nuestra maestra de música, por tener la paciencia y el amor por nuestros estudiantes para enseñarles todas estas canciones navideñas . Padres, recuerden que mañana salimos temprano y los estudiantes saldrán a las 12:00 p. m. ¡Que tengan unas maravillosas vacaciones de invierno y nos vemos en 2023!!!!!
Dear Ocotillo Parents, Thank you so much for joining us yesterday and today for our Christmas Program. The students did such an amazing job! Thank you to Mrs. Miller our music teacher for having the patience and love for our students to teach them all those Christmas favorites. Parents, please remember that tomorrow is early out and students will be dismissed at 12:00pm. Have a wonderful Winter Break and see you in 2023!!!!!
Estimados padres de Ocotillo, Hoy ha sido un día muy emocionante, nuestros alumnos continúan practicando para el Programa de Navidad de la escuela que va a ser genial, y OXY Oil junto con la Fundación Barbara Bush donaron 6 libros y una mochila a cada alumno de Ocotillo. ¡Muchas gracias OXY Oil estamos muy agradecidos! Padres, nos gustaría recordarles que mañana, para nuestro programa, no permitiremos que los estudiantes se retiren. Nuestros estudiantes todavía tienen mucho que aprender y después del programa necesitan regresar a clases y continuar con su día. Como siempre muchas gracias por todo lo que haces! Sra. Álvarez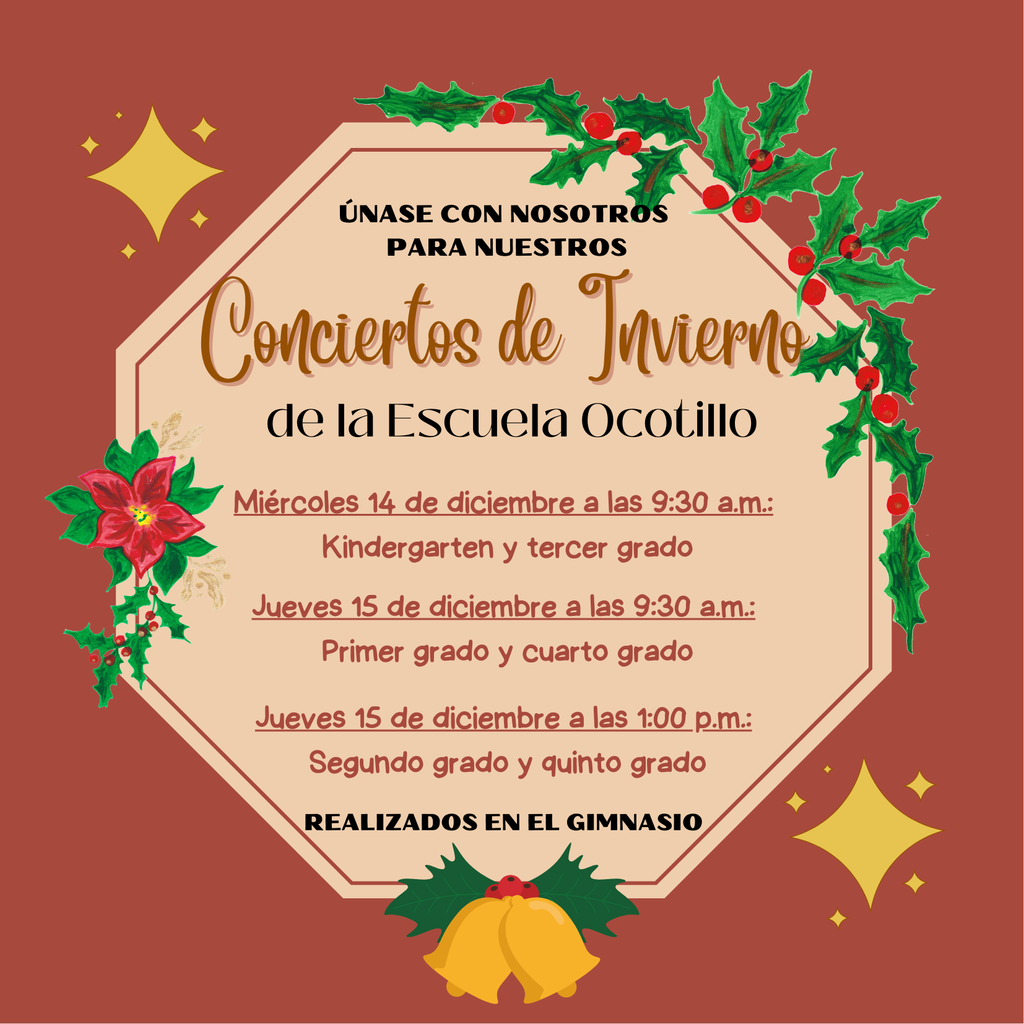 Dear Ocotillo Parents, Today has been such an exciting day, our students continue to practice for the school's Christmas Program which is going to be great, and OXY Oil together with the Barbara Bush Foundation donated 6 books and a Canvas backpack to every student in Ocotillo Elementary. Thank you so much OXY we are so grateful! Parents we would like to remind you that tomorrow for our program we are not allowing students to get checked out. Our students still have a lot of learning and after the program they need to return to class and continue their day. Attached is a reminder of the times and day of the grade level performances. As always thank you so much for everything you do! Mrs. Alvarez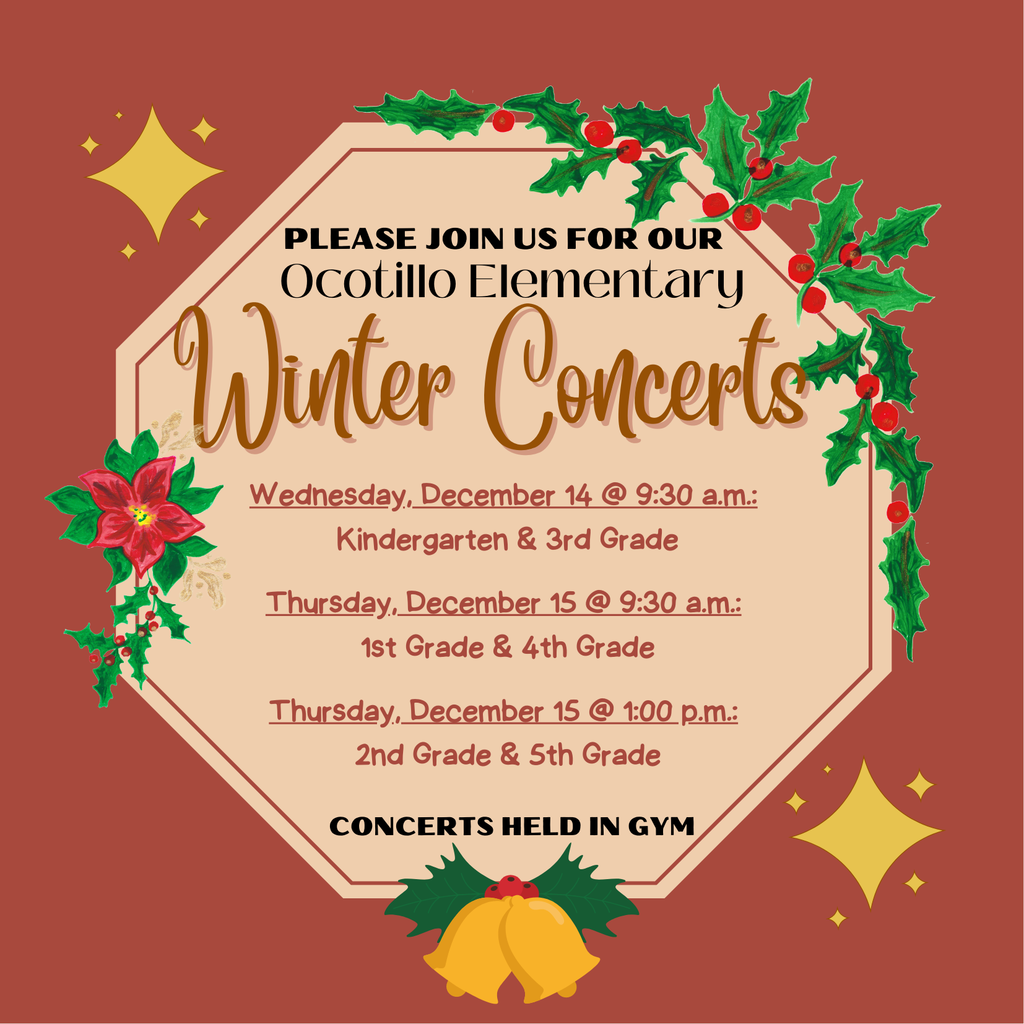 Padres de Ocotillo, tenemos un retraso de dos horas debido al clima. La entrega comenzará a las 9:25 am. No se servirá desayuno. Gracias Sra. Álvarez
Ocotillo Parents, we are on a two hour delay due to weather. Drop off will begin at 9:25 am. Breakfast will not be served. Thank you Mrs. Alvarez