Padres de Ocotillo, tenemos un retraso de dos horas debido al clima. La entrega comenzará a las 9:25 am. No se servirá desayuno. Gracias Sra. Álvarez
Ocotillo Parents, we are on a two hour delay due to weather. Drop off will begin at 9:25 am. Breakfast will not be served. Thank you Mrs. Alvarez
Estimados padres de Ocotillo, ¡Vea el folleto adjunto para la Noche STEAM! Haga planes para estar aquí el 15 de noviembre, tendremos muchas actividades y excelentes presentadores. Espero que pueda estar con nosotros. Primaria Ocotillo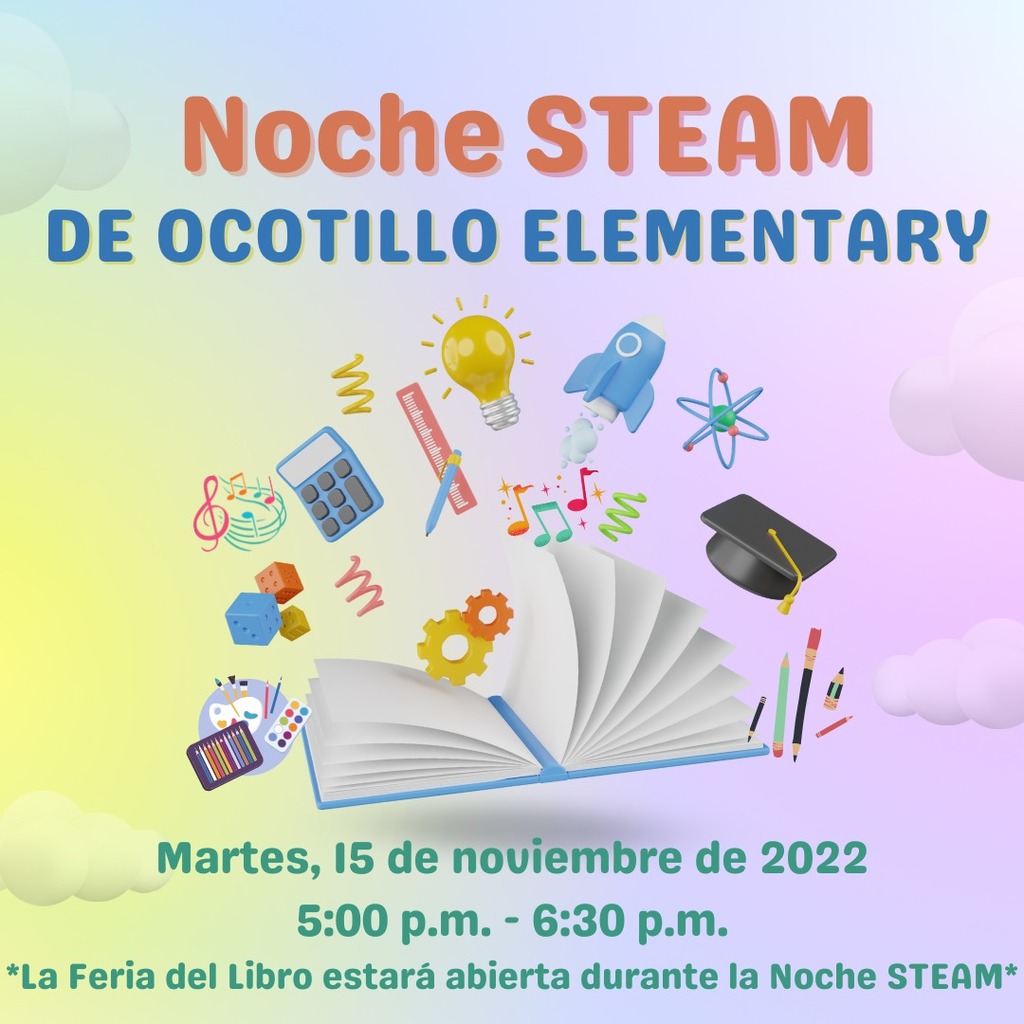 Dear Ocotillo Parents, Please see the attached flyer for STEAM Night! Please make plans to be here on the 15th of November, we will have a lot of activities and great presenters. I hope you can join us. Ocotillo Elementary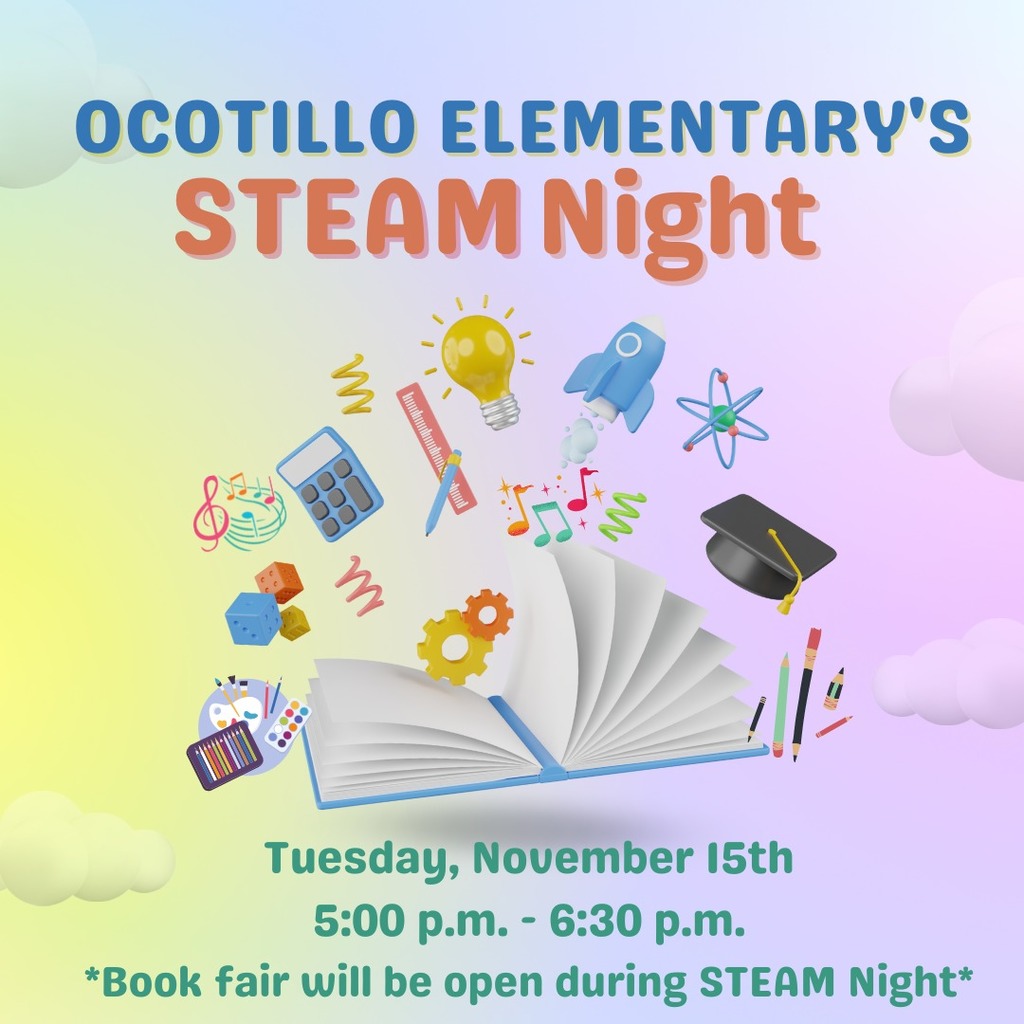 Ocotillo Families: There will be having the next Food Distribution on November 16. @ 11:00 am pick-up Pecos River Village Conference Center, 711 Muscatel Familias de Ocotillo: Habrá la próxima distribución de alimentos el 16 de noviembre. Recogida a las 11:00 a. m. Centro de conferencias Pecos River Village, 711 Muscatel
Padres y tutores de Ocotillo, debido a que Valley Transportation no tiene suficiente personal, van a recoger a los estudiantes de la calle 5 al las 7:30-7:45 de la mañana. Hasta nuevo aviso, los estudiantes del autobús 38 esperarán en nuestro gimnasio hasta que el autobús 28 termine su ruta y regrese a recogerlos. Si tiene alguna pregunta, llame a Valley Transportation, esta es la única información que hemos recibido. Gracias Sra. Álvarez
Ocotillo Parents and Guardians, due to Valley Transportation being short handed they are having to pick up at 7:30-7:45 in the morning on 5th street. Until further notice bus 38 students will wait in our gym until bus 28 finishes their route and returns to pick them up. If you have any questions please call Valley Transportation, this is the only information that we have received. Thank you Mrs. Alvarez
Ocotillo Parents and Guardians, if you are going through loss and grief please see the attached flyer for available support for you and your family...Padres y tutores de Ocotillo, si están pasando por una pérdida y duelo, consulten el folleto adjunto para conocer el apoyo disponible para usted y su familia...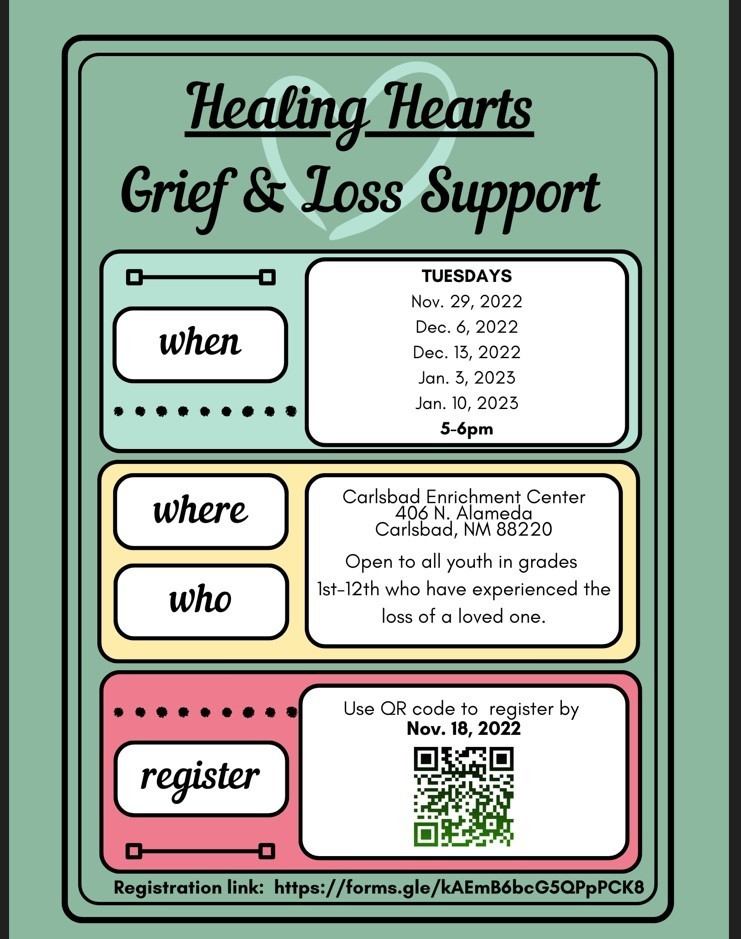 Ocotillo Parents: Southeast New Mexico College invites you to attend "Taste of Culture"Padres de Ocotillo: El Colegio del Sureste de Nuevo México los invita a asistir a "Taste of Culture"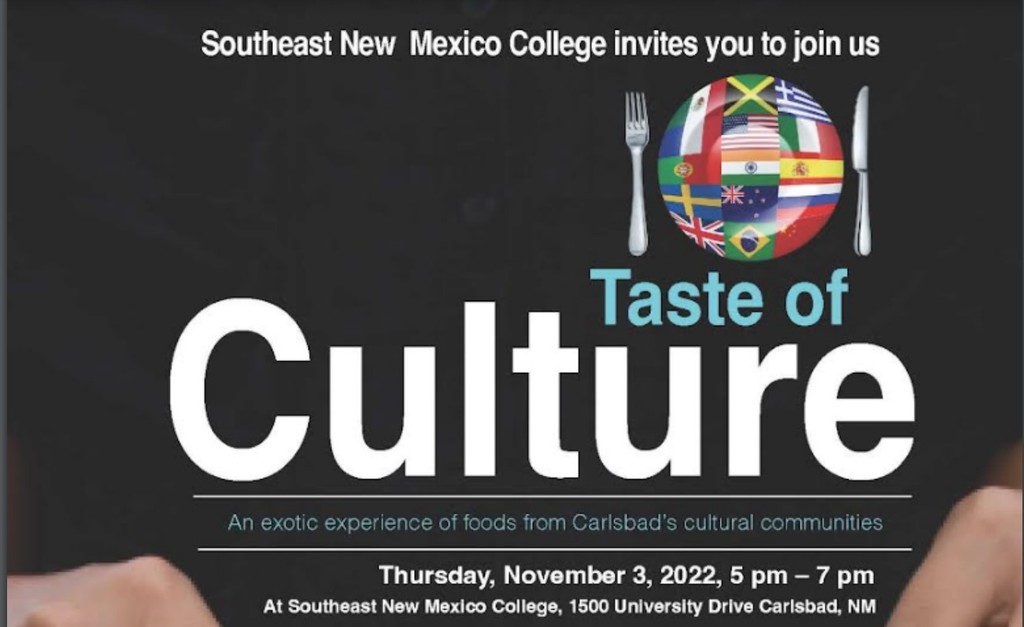 Buenos días padres, Antes que nada quiero agradecerles a todos ustedes por asegurarse de que sus estudiantes estén aquí a tiempo. Me gustaría recordarles que por favor conduzcan con precaución por la mañana. No somos guardias de cruce profesionales y tratamos de hacer nuestro mejor esfuerzo, algunos de ustedes conducen tan rápido o miran su teléfono celular que, aunque mantenemos la señal de alto, algunos no nos ven. Los padres y los estudiantes están caminando y estamos tratando de controlar la congestión del tráfico. Trabaje con nosotros, mantengamos seguros a nuestros estudiantes y nuestro personal. Su cooperación con este importante mensaje sería muy apreciada. Gracias Sra. Álvarez
Good morning Parents and Guardians, Wow! It's already November, first of all I want to thank all of you for making sure that your students are here and on time. I would like to remind you to please drive cautiously in the morning. We are not professional Crossing Guards and we try to do our best, some of you are driving so fast or looking at your cell phone that even though we hold the stop sign some you are failing to see us. Parents and students are walking and we are trying to control the traffic congestion. Please work with us, lets keep our students and our staff safe. If you drop off students on the Westside of the building you must drive forward and follow the signs. Parking is not in the guest parking lot. That parking lot has been specifically designated for students with special needs or medical approved tags. Your cooperation to this important message would be greatly appreciated. Thank you Mrs. Alvarez
Queridos padres y guardianes, Con el clima frío acercándose, le pedimos que si su estudiante está tosiendo, no envíe pastillas para la tos o medicamentos para la tos en sus mochilas. Si desea que traigan pastillas para la tos o medicamentos para la tos, complete los formularios necesarios para permitir que su estudiante traiga medicamentos. La recepción le orientará sobre lo que necesita. Gracias por su cooperación. Sra. Álvarez
Dear Parents and Guardians, With the cold weather approaching we ask that if your student is coughing, don't send cough drops or cough medicine in their back packs. If you want them to bring cough drops or cough medicine, please fill out the necessary forms to allow your student to bring in medication. The front office will guide you on what you need. Thank you for your cooperation. Mrs. Alvarez
Roadrunner Food Bank of New Mexico October 26 @ 11:00 pick-up Pecos River Village Conference Center, 711 Muscatel/26 de octubre @ 11:00 recogida Centro de conferencias Pecos River Village, 711 Muscatel
Red Ribbon Week! October 24th thru October 28th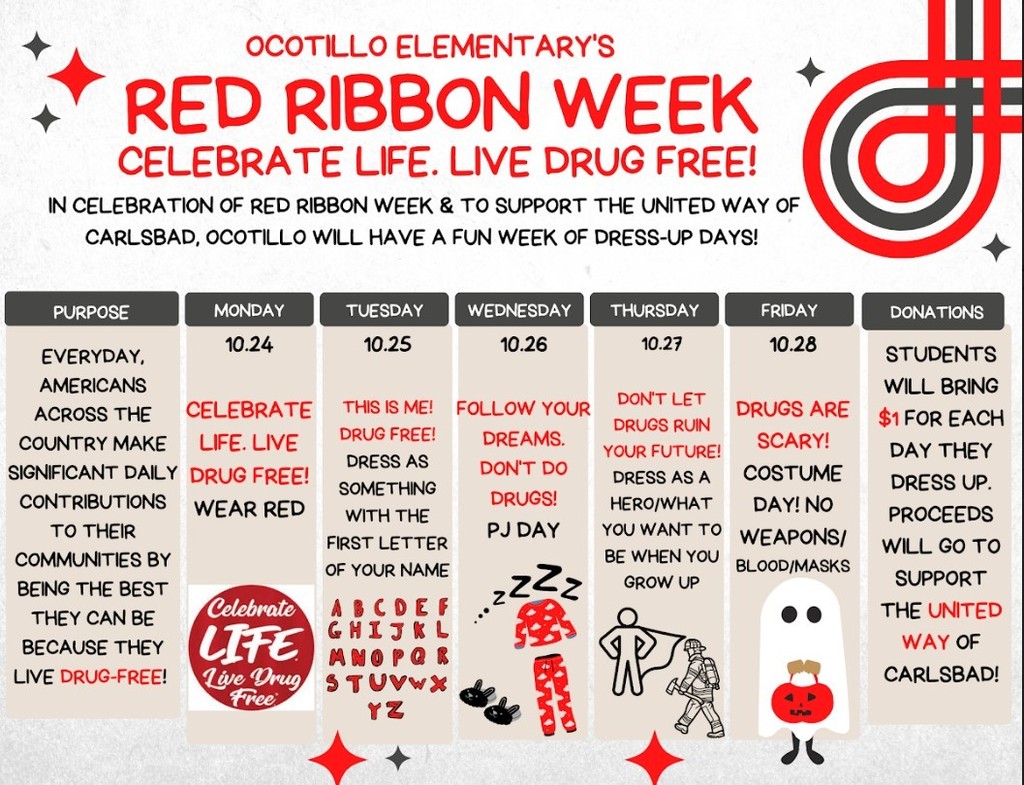 Carlsbad National Softball League Camp/Campamento de la Liga Nacional de Softbol de Carlsbad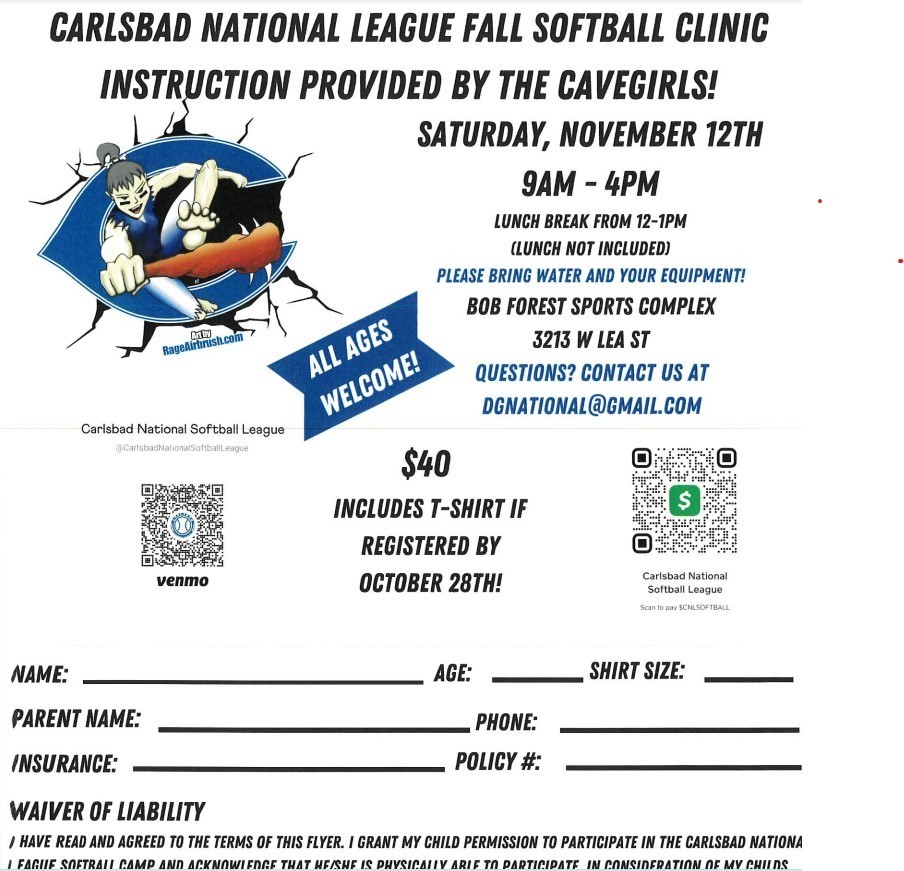 Thanksgiving Food Drive/Campaña de comida de acción de gracias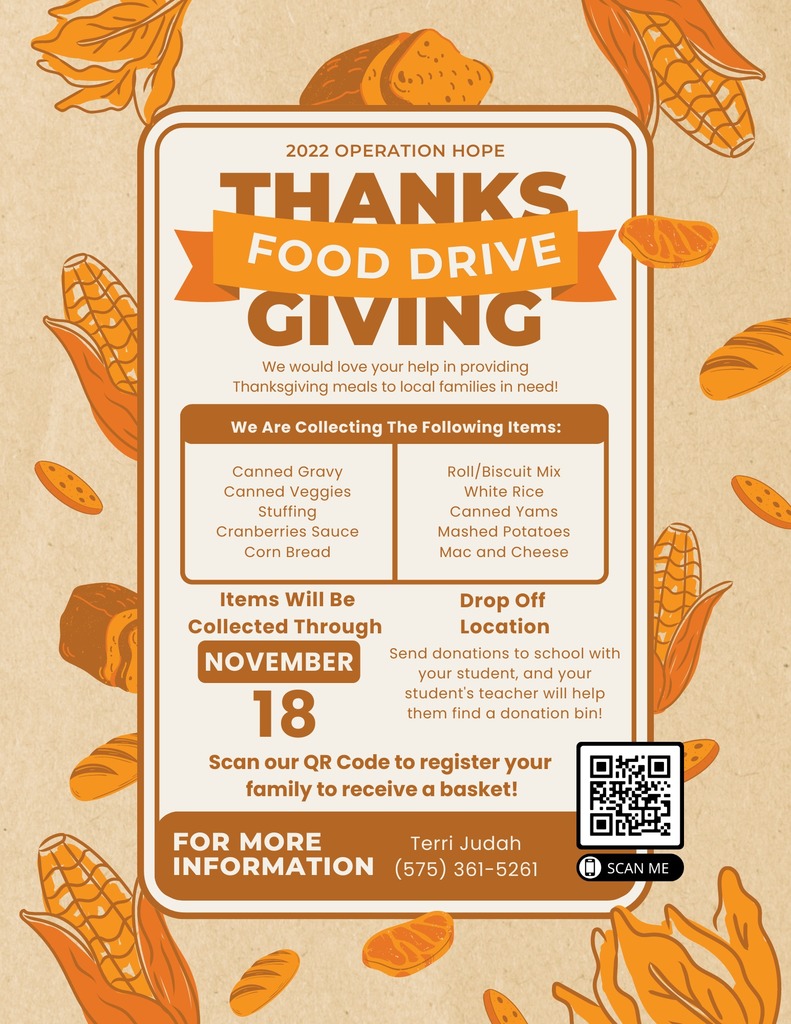 Queridos padres y guardianes, ¡No tendremos clases el lunes 10 de octubre de 2022 para observar el Día de los Pueblos Indígenas! Que tengan un buen fin de semana largo y nos vemos el martes 11 de octubre. Sra. Álvarez
Dear Parents and Guardians, We will not have classes on Monday, October 10, 2022 to observe Indigenous People's Day! Have a safe long weekend and we will see you on Tuesday the 11th of October. Mrs. Alvarez
¡AQUÍ ESTÁ EL VOLANTE EN ESPAÑOL!